This article is a continuation of an article that surveys the Geovision line of cubic cameras. Here we will take a closer look at a new series of cubic cameras from Geovision.

What new does Geovision offer us in the GV-CA and GV-CAW series cameras?
So, let's start in order, the new line of cameras is called GV-CA and outwardly it is very similar to the line of the previous generation GV-CB and GV-CBW. GV-CA cameras are also available in two versions with different matrices:
- The youngest model GV-CA120 with a megapixel matrix can offer video with a resolution of 1280x1024 pixels and 30 ks, the built-in speaker and microphone provide two-way audio communication, dual video stream and support for H.264 and MJPEG codecs.
- The older model GV-CA220 received a two-megapixel matrix and its maximum resolution is 1920 × 1080 pixels (FullHD) at 30 fps, everything else in it corresponds to her younger brother.
Now we look at what's new in them, unlike the previous line.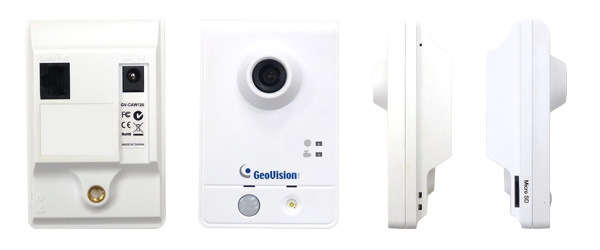 Firstly, the most important difference is the presence in these cameras of a pir detector, a motion sensor based on the fixation of the thermal background, which is radiated by any person and built-in LED illumination. How it works - in the absence of lighting in the room, the built-in heat sensor detects the movement of a person and automatically turns on the LED backlight, the intruder is illuminated and the camera records its image on a video server or SD card. In addition to the immediate opportunity to record a high-quality image in the dark, this function can also scare away a potential intruder. As well as support for PoE.

Video in a darkened room from the GV-CA120 IP camera.
In order to fully appreciate the quality of the recording, it is recommended to set the maximum available resolution.

Secondly, these cameras received support for WDR (wide dynamic range), which allows them to receive high-quality images, even in rooms with different light levels (opposite door windows, bright lights) and Defog support (anti-fog function), relevant for rooms in which dust, fog is present. The camera processes this noise and produces a clear picture.

And thirdly, full support for the ONVIF standard, which allows you to connect this ip-camera to modern video surveillance systems working with this protocol.
The CAW series is also represented by two models: GV-CAW120 and GV-CAW220. They have the same capabilities and functions as the IP cameras of the GV-CA series, with the only difference being the presence of a WI-Fi module in them, which allows you to build a quickly deployable and flexible ip-video surveillance system without laying a cable using ordinary household wifi router.
These cameras are ideally suited for apartments and offices where repairs have already been made and cable laying can violate the aesthetic component. A relatively low price in relation to image quality and additional functions make this series of cameras one of the best deals on the market.

You can buy and order installation of any Geovision cameras from us, as well as get advice on any issues related to security systems.
Tel: (044) 361-59-01, (067) 123-62-98
Or email us: info@kristalls.com.ua