LenelS2 announced the release of the OnGuard® Security Management System version 8.0, which provides security teams with advanced monitoring and visibility into a unified view of the security environment, as well as data visualization tools. Version 8.0 includes significant updates, including integration with the Magic Monitor® client, a large number of interactive maps, a new alert engine, improved cybersecurity and more. The OnGuard Security Management System is an advanced solution under the Carrier Premises Security Program that includes visit management tools, improved access control and analytics to protect people and property, and improve the safety and efficiency of buildings. LenelS2 is part of Carrier Global Corporation, a leading global provider of healthy, safe and sustainable buildings and cold chains.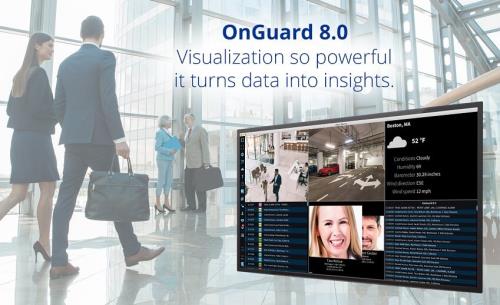 OnGuard 8.0 provides the end user with a complete set of tools needed to fully control the security environment and process security data to provide a basis for decision making. As people return to their jobs, businesses need new solutions to pressing security issues. The new changes to OnGuard are aimed specifically at creating the appropriate tools.
OnGuard 8.0 integrates with Magic Monitor client and Windows or MacOS client to provide a single view of data from CCTV cameras, access control systems, and more. Users can view OnGuard alerts, alerts and recorded or live video from LenelS2 NVR or third-party platforms video surveillance systems, including Milestone XProtect® systems. The single Magic Monitor client can be used on a separate display, command center, or video wall.
The OnGuard 8.0 platform now also includes the OnGuard Reports browser client, which provides custom reports that serve as a basis for decision making. OnGuard Dashboard is a powerful visualization tool for system, reader and alarm data.
New interactive maps OnGuard Maps is a browser-based tool for visualizing room maps and monitoring the system. In OnGuard 8.0, interactive maps in the OnGuard Monitor client can be accessed from any computer, tablet device, or smartphone.
The update also touched on improvements to the user interface, integration with other platforms, and increased cybersecurity levels. User interface enhancements include available system language options and a more user-friendly web-based video viewing experience. Interface changes include new audio features, digital zoom, screen capture, and video support from Milestone Xprotect