GV-Hot Swap VMS V5 - 3U 16 bay, up to 64 channels.
The GV-Hot Swap VMS V5 video management and recording system has high capabilities for storing and managing video data. The GV-Hot Swap VMS V5 16 bay video surveillance server is capable of storing 160 terabytes of data and managing and recording up to 64 channels of video streaming. Support for hot-swap features makes storage, backup, and data management easy.
The GeoVision GV-VMS video surveillance system allows you to process up to 64 channels of streaming audio and video based on the GV-Hot Swap VMS V5. The network capabilities of the system make it possible to remotely access, manage, analyze and reserve data arrays. In addition, compatibility with other accessories and software and hardware solutions GeoVision allows you to adapt the system to any needs and tasks and achieve the highest level of integration with various security and automation systems.
Enhanced compatibility with third-party IoT devices (license required) allows the GV-VMS software to provide multi-brand solutions for building a security system based on the GV-Hot Swap VMS V5.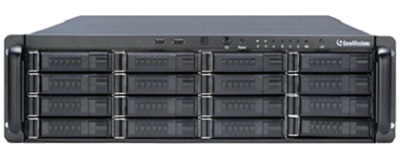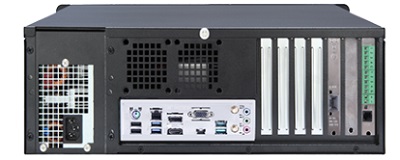 Specification
System

CPU

Intel Core i7

RAM

Double channels 16 ГБ

OS

64-bit Windows 10 IoT Enterprise

DirectX

11

Number of HDD

20 (2.5" / 3.5" HDD)

Inner memory

64 ГБ SSD

Connections

Ethernet

RJ-45, 10 / 100 / 1000 Mbps x 3

Video out

3 displays: VGA, HDMI, DisplayPort

USB 2.0

Rear: 2 ports

USB 3.1 Gen 1

Front: 2 ports, Rear: 2 ports

USB 3.1 Gen 2

Rear: 2 ports

Cooler

12 sm (4 3/4")

3 units

8 sm (3 1/8")

2 units

Power

Out: 1000 W
In: 100-240 V AC, 47-63 Hz, 12-6 A
Model

GV-VMS

GV-VMS (Pro)

Video and audio

Video input

32 channels

64 channels

Audio input

32 channels

64 channels

Video cpmtression

Geo MPEG4, Geo H.264 / H.265

Live playback

Image control

Contrast/ Brightness/ Saturation/ Tone

Recording mode

Around the clock/ Motion detection / Sensor detection/ pre and postrecord / record by schedule

Prerecord

1 ~ 45 min.

Immideate playback

10 s. / 30 s. / 1 min. / 5 min.

Watermarking

Supported

Search and backup

Search method

Date / Time/ Camera/ Event type

Backup type

DVD+R (DL) / DVD-R (DL) / DVD+R / DVD+RW / DVD-R / DVD-RW / CD-R / CD-RW

Remote monitoring

Network type

LAN, WAN, Internet

Monitoring environment

Web-browser (IE, Chrome, Firefox and Safari)
mobile device (Android and iOS)

Monitoring and system recovery

Power recovery

Auto replay after power cut

Monitoring

2 independent Watchdog (Watchdog hatdware + Watchdog software)

Recovery

Auto backup from SSD

Alarm

Sensor input

Standart

4 inputs

GV-IO 12-In Card (optional)

12 inputs

GV-IO Box (optional)

4 / 8 / 16 inputs

Alarm output

Standart

4 inputs

GV-IO 12-Out Card (optional)

12 inputs

GV-IO Box (optional)

4 / 8 / 16 inputs

Peripherals

Audio microphone in

Mini stereo jack

Audio out

Mini stereo jack