In this article, we will look at the new possibilities that wireless technologies can bring when creating solutions for IP security systems
In the last decade, there has been a significant increase in the use of licensing-free technologies for transmitting data over radio channels, in particular audio and video data.
Nowadays, many organizations are starting to use wireless (Wi-Fi) technologies to expand their traditional cable infrastructure - for example, installing wireless access points that connect to an existing network where cabling will be too expensive. Modern equipment allows you to build a Wi-Fi Ethernet bridge that connects points that are over 40 km away.

Increasingly, this technology is considered as a very relevant solution when building an IP-video surveillance system.

Easy to deploy
Deploying wireless access points reveals a number of advantages compared to traditional devices connecting to a local network:
- Usually this is the most cost-effective way to get data from point A to point B, because it significantly reduces the cost of laying a cable or renting leased Internet lines.
- Capital equipment costs - the cost of radio stations and antennas (Wi-Fi access points), significantly less than a few kilometers, of high-quality fiber-optic or copper cable.
- The terms of the project are significantly reduced, which further reduces the cost of installing the system
- Ease of maintenance. When equipment fails, it is much easier and faster to identify the problem and fix it than on a traditional cable route.
Using wireless technologies (Wi-Fi) for IP video surveillance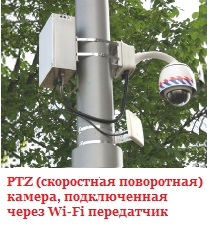 IP cameras generate a digitized signal directly on the camera using ip-networks for transmitting, monitoring and recording live audio and video signals. A typical system will include several IP cameras connected to the network using twisted pair cable, fiber optic cable or Wi-Fi transceiver. It is also possible to connect to this system: access control and time attendance systems, fire and security alarm systems of various executable devices (lighting, barriers, warning systems, etc.), it all comes down to a management server (video server), which directly produces video recording, analysis and interaction of devices in the system.
There are two types of solutions for using Wi-Fi for building video surveillance systems:
- The first is the use of specialized IP cameras with a Wi-Fi transmitter, thanks to which you can transmit a video signal even through a regular, household Wi-Fi router. This is relevant where cable laying is undesirable or impossible, for example, in renovated apartments, industrial premises or environmental zones.

- The second option involves the use of Wi-Fi access points (transceivers). Thanks to this, it is possible to transmit video and audio signals from IP cameras to a video server, over long distances, over 40 km. It is relevant when building a video surveillance system in a large area where the use of traditional cable routes will be very costly.
Based on this, it becomes apparent that IP video surveillance solutions are extremely cost-effective and scalable. To add a new ip-camera to the system, in the future you just need to connect the camera anywhere in the local network or via the Internet.
To ensure security at the Athens Olympics in 2004, the Backbone IP video surveillance system was used. This system covered more than 2000 cameras in 47 locations on an area of 250 km². This data was available from 63 command centers and was controlled by 1250 operators. This system simply could not be physically implemented using analog video surveillance systems.
Increased flexibility and scalability of IP security systems

The advantages of IP video surveillance today are seen not only in the construction of large corporate systems, but more and more often medium and small enterprises are looking towards such solutions.
The use of wireless infrastructure adds great mobility and flexibility to security systems, as well as provides unlimited possibilities for scalability (increase) of these systems.
Existing ip-cameras can be easily moved - an ideal solution for temporary or tactical deployment, and connecting new cameras to the system will require minimal financial and time costs. Also, this technology will allow you to combine several autonomous systems, spaced many tens or hundreds of kilometers from each other, into one global security system.


Transmission security

Often, wireless data transfer technologies are perceived as less secure than traditional cable lines. However, here they have something to offer, for example, typical wireless communication systems, now include advanced encryption technologies. AES (adopted by the US government as an encryption standard), TKIP (randomly generates one of 5,000,000,000,000 keys for each data packet) and 152-bit WEP encryption - which makes decrypting the transmitted data almost impossible.
Controllability

One of the key IP advantages of security systems is the possibility to monitor and manage cameras and other devices in network remotely.
The latest wireless transmission systems also have the ability to remotely control, such as the Simple Network Management Protocol (SNMP), which allows operators and network administrators to identify the source and type of anomaly, for example, to monitor equipment outages, low signal levels, etc., as well as perform remote viewing and management of cameras, managing access control systems, allowing access for various employees to various rooms, receiving video analytics data, managing various devices and connected to a security system (warning systems, lighting, barriers, etc.)
In the context of the topic of IP video surveillance, we can conclude that even small organizations now have the opportunity to establish video surveillance on their territory and beyond, in a short time, with an appropriate level of security and easy to manage.