5th generation UFPA thermal imaging sensor

Uncooled microbolometer 384x288 or 640 * 480 pix.

Thermal imager lenses 10, 20, 50 mm

2 Mpx visible spectrum sensor, 1 / 2.8 '' CMOS, 1920x1080 pixels

PTZ pan: 0 ~ 360 °, tilt: -75 ~ + 40 °

Temperature detection functions at specified points, zones

Temperature measurement at specified points in zones

Up to 10 detection zones per preset

6 types of alarming algorithms

10 pseudo flowers

ONVIF support

One-piece aluminum alloy body

Waterproof connector
Multi-sensor dual band platform KS-MRM - based on the latest technology of uncooled infrared thermal imaging microbolometers of the 5th generation. The cameras are equipped with UFPA sensors with a resolution of 384 x288 / 640 x480. Built-in digital processing technology for temperature detection of a wide range of targets and output of thermal spectrum images. KS-MRM series multisensor cameras are equipped with a thermal imaging sensor and 2 Mpx (FullHD) optical module, the system is equipped with a PTZ platform with the ability to remotely control and view 360 °, which allows you to provide round-the-clock surveillance in any conditions. The one-piece aluminum alloy body, nitrogen-filled and IP66 rated for water and dust resistance, ensures safe outdoor operation.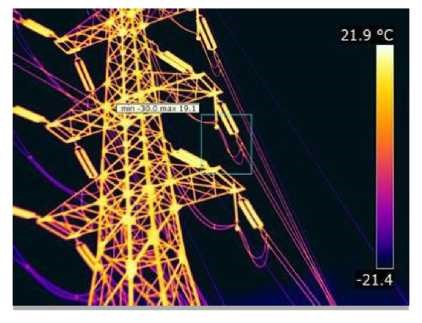 Features
More accurate temperature measurement, the use of a digital temperature sensor, images of the thermal imager are based on original data processing, combining high-precision temperature measurements and thermal imaging.

Thermal imaging CIF or D1 module and 2 MP FullHD camera, allow you to get thermal and normal images with high detail.

Compact and durable UFPA microbolometer with low power consumption, more stable performance than conventional uncooled microbolometers.

Latest generation MEMS technology, NETD: 50mk, for more accurate imaging.

SDE, no noise, 10 pseudo colors.

Built-in video analytics - 10 target sub-zones, independent detection and separate alarm thresholds for each zone, receiving data on the maximum, minimum, average temperatures and the current temperature at the point.

A special temperature alarm technology, eliminates false alarms due to temperature differences between indoor and outdoor, as well as changing weather conditions.

Multi-point thermal screening, supports multiple screening zones per preset, provides 360 ° round-the-clock observation.

Industrial grade design, one-piece aluminum alloy body, IP66 protection grade, the camera performs well in harsh weather conditions.
Application
Security systems, monitoring of electrical substations, petrochemicals, railway tracks, testing of working industrial equipment, prevention of health and epidemics, building inspection, study of schemes and thermal analysis of structures.
Specification
Model

KS-MRM-110-

KS-MRM-210-

KS-MRM-310-

Thermal sensor

5-th generation UFPA

Resolution

384*288 pixels (640*480 optional)

Spectral range

7.5~14p.m

NETD

50mK (@25°C F1.0)

Thermal lens

10 mm F1.0

20 mm F1.0

50 mm F1.0

Visible range CCD

1/2.8'' CMOS, 2 MP, (1920*1080) optic ICR filter, automatic convertation of colored image to B/W. H.265H.264

Visible range lens

4.7 - 94 mm lenses, motorized zoom and focus.

Image processing

1. Stable operating temperature without TEC, start-up time less than 4 seconds

2. SDE digital image processing

3. 10 pseudocolors and B / W, B / W conversion

4. 2X digital zoom

Temperature measurement accuracy

1. Measuring accuracy: ±2C

2. Measuring temperature range: -20 ° C - 120 ° C (650 ° C optional)

3. Adjustable parameters, temperature correction, emissivity, atmospheric transmittance, humidity

Temperature monitoring

1. Tracking support: High, low and medium temperature, points and detection zones; the ability to add multiple targets for real-time temperature detection.

2. Each preset can be set up to 10 alarm zones with separate threshold values and settings, creating separate schedules for each zone.

3. Monitoring at specified points, the ability to add multiple zones.

4. 6 types of alarm algorithms - by maximum, minimum, average values, absolute threshold of the center position, relative changes in temperature values

Alarm

1. Sound, light alarm. Preset the linked PTZ camera of the visible range for automatic surveillance. Programmable IO alarm output, for manual / automatic fire extinguishing system or broadcast

2. Real-time recording of temperature data of each object, automatic generation of reports and graphs

3. Automatically records temperature data when an alarm is triggered, saves screenshots and videos, creates and records related reports, supports storage

PTZ operation

1. Load up to 30 kg

2. Rotation: Pan: 0 ~ 360 °, Tilt: -75 ~ + 40 °

3. Rotation speed: Pan: 0.1 ~ 60 ° / S, Tilt: 0.1 ~ 30 ° / S

4. 80 presets

5. Vibration protection

Interface

1. One RJ45 network interface (including video and temperature data, return azimuth, PT control transmission), one IO alarm output

Power suppy - AC24V/DC24V

Waterproof Aviation Connector

Operation

1. One-piece aluminum alloy housing, IP66 IK10

2. Working temp .: -25 ° ~ 55 ° (-45 ° optional)

3. Power Consumption: Typical 50W, Peak 100W