Introduction
The GV-CS1320 is an access controller with an integrated 2 megapixel camera and 13.56 MHz reader.
The GV-CS1320 is capable of providing ID card recognition and access for 40,000 users. Thanks to the integrated wide-angle camera in the card and face recognition mode, the GV-CS1320 can provide access after face recognition and card verification.
The visitor can also access by pressing the button (touch panel) of the call. When the GV-CS1320 is connected to the GV-ASManager via the network, when you press the button (touch the panel), the GV-ASNotify generates an alert and takes a picture. The operator can use GV-ASNotify to view live video and communicate with the surveillance area using a microphone and speaker.
This complete solution eliminates the need to install and maintain a separate camera in addition to a card reader.
RS-485 / Network connection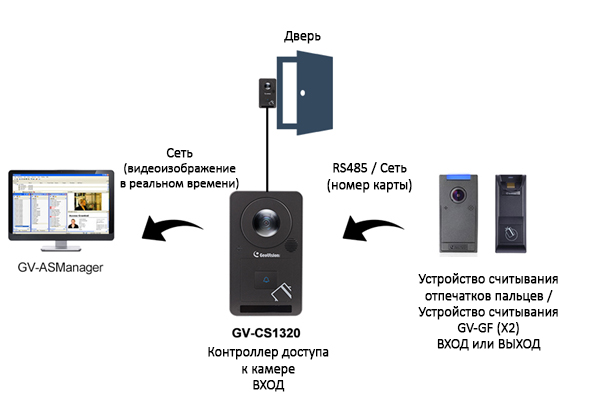 Connection to PC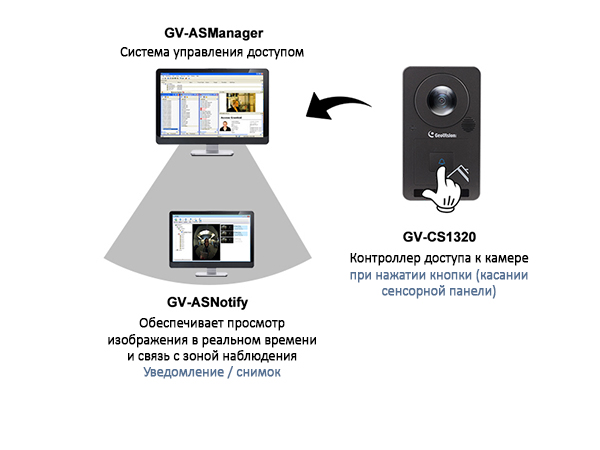 Dimensions

Main features
Camera
2 megapixels, progressive scan, for ultra low light, CMOS technology

Minimum Illumination - 0.02 Lux

Two streams in H.264 and MJPEG

Up to 15 frames per second at 1920 x 1080 resolution

Modes of operation day and night (with a removable IR cut-off filter)

Built-in IR sensor with a range of up to 3 m

Dust and moisture protection (IP66)

12 V post current, 2.5 A / PoE + (IEEE 802.3at)

Built-in microphone and speaker

Wide Dynamic Range (WDR)

Built-in micro SD card slot

180 ° panoramic view

Meets ONVIF requirements (S, C profile)
Reader
13.56 MHz integrated reader (Mifare DESFire, Mifare Plus and Mifare Classic)

Card access plus face recognition

RS-485 and network interface for connecting up to 2 readers
Access control
Switching access control modes in accordance with the authentication schedule: Card read-only mode (default), card and face recognition mode

1 door (control from one or two sides)

Call button (touch panel) for talk mode

Real-time image acquisition and image capture upon presentation of the card

Single card prohibition function

2 inputs, dry contact (door sensor / exit button)

1 relay output (30 V DC, 0.5 A)
Specification
Камера

Матрица

Матрица 36 мм, прогрессивная развертка, для сверхнизкой освещенности, технология CMOS

Разрешающая способность

1920 (Г) x 1080 (В)

Минимальная освещенность

Ч/б

0,02 лк

Выдержка

Автоматическая, устанавливаемая вручную (1/5 – 1/8000 с)

Баланс белого

Автоматический, устанавливаемый вручную (2800K – 8500K)

Отношение сигнал/шум

52 дБ

Объектив

Для мегапиксельных разрешений

Да

Функция «День-ночь»

Да (со съемным фильтром отсечки ИК)

Тип объектива

Фиксированная

Фокусное расстояние

1,7 мм

Макс. апертура

F/2,5

Крепление

M12

Формат матрицы

36 мм

Угол обзора по горизонтали

180°

Число ИК-светодиодов

2

Макс. расстояние для съемки в ИК

3 м

Эксплуатационные характеристики

Форматы сжатия видео

H.264, MJPEG

Поток видео

Два потока в H.264 и MJPEG

Разрешающая способность видео

Поток 1

1920 x 1080 (16:9)

Поток 2

640 x 360 (16:9)

Частота кадров

15 кадров/с при разрешении 1920 x 1080

* Частота кадров и рабочие характеристики могут меняться в зависимости от числа подключений и полос пропускания для передачи данных
(в различных сценах).

Регулировки изображения

Яркость, контраст, насыщенность, резкость, гамма, баланс белого, ориентация изображения, выдержка

Форматы сжатия звука

G.711, AAC (дополнительно)