The system of visitors calculation using usual and 3D cameras

Nowadays the system of visitors calculation is an issue of current importance for the sale system. Thanks to analyses of information due to personal flows, time of rush hours and gender analyses of visitors, working time of personal could be flexibly tuned in, the most effective sale policy could be prepared etc. Besides, it gives the opportunity to understand whether the advertising is effective.
The Company "Geovision" has worked at this area during a long period. Its results were represented by intellectual video analytics that allow accounting of visitors quantity, calculation of persons and identification of visitor's gender by standard system of video surveillance GV-NVR and IP-camers GeoVision. However, such results had some disadvantages. For the purpose of minimal error of visitors calculation the cameras with certain overview was necessary to setup. Anyway, the accuracy of calculation did not exceed 24_ports-95%.
Nowadays the company GeoVision represents a new solution that allows achieving of more than 98% accuracy. This is hardware equipment GV-3D People Counter and 3D camera Asus Xtion Pro / Asus Xtion Pro Live.

This system calculates the quantity of persons through the detection zone at the real time regime. GV 3D People Counter is connected by VGA or HDMI cable to the screen and calculate persons at the real time regime. Thanks to the built in web- interface the user can connect to the system distantly and receive needed report for any time interval. As well as other Geovision' s systems, this equipment could be integrated into the uniform system with GeoVision's security system, connect to the server GV-Web Report.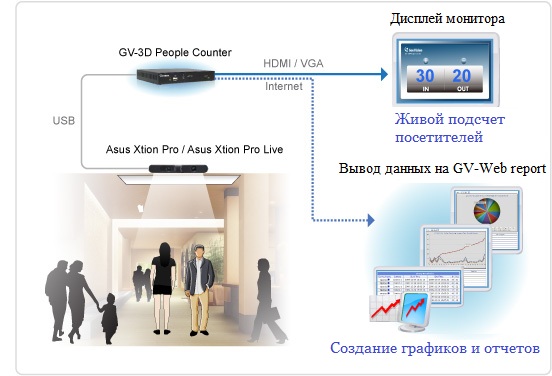 GV-Web Report intended for gather of statistic information and analyses of data from GV-System and GV-Smart BOX. It is fit for integration with large-scale distributed systems of video surveillance. GV-Web Report can receive data from 1000 equipment of GV-System and GV-Smart BOX, GV-3D People Counter.
Support of 1000 GV-systems, GV-Smart Box, GV-3DPeople Counter

Monitoring of traffic at the real time regime, daily, monthly, yearly.

Notification when the quantity of persons exceed identified maximum.

Allow joint different cameras and equipment into the groups for the purpose of deep analyses

Representation of reporting into iPhone, iPad, Android

Analyses of gender and age

Distance access to the records from GV-system

Results of persons calculation and photos from GV-system, GV-Smart Box, GV-3DPeople Counter

The results of persons calculation / cars based on different objects' scopes

Languages: English, Russian, Chinese
In our company you can buy any Geovision cameras, order setup of the system and receive consultation regarding the security system.
Phone: (044) 361-59-01, (067) 123-62-98
Or write to our e-mail: info@kristalls.com.ua