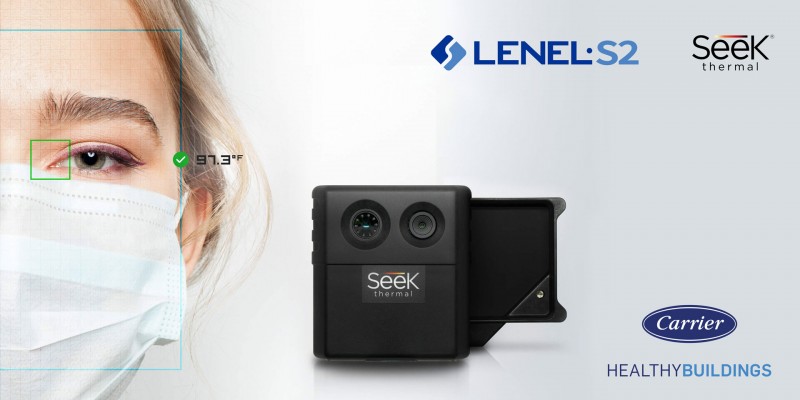 LenelS2, a global leader in advanced security systems, announced the integration of its OnGuard® and NetBox ™ access control systems with Seek Thermal Scan thermal imaging systems. This integration allows business owners to identify people with elevated skin temperatures using contactless technology and grant or deny access to visitors based on this data. An integrated solution enables you to create a healthier, safer, more efficient and productive environment. LenelS2 is part of Carrier Global Corporation, a leading global provider of healthy, safe and sustainable buildings and cold chains.
The integration of Seek Scan with access control systems allows end users to maintain the confidence and level of control needed to maximize building security procedures during a pandemic.
The Seek Scan System is one of the most affordable temperature screening solutions that meet FDA requirements during the COVID-19 pandemic, and is designed to automate temperature screening. The measurement error is only a fraction of a degree, thanks to which the Seek Scan system provides the same result as a hand-held thermometer, but is automated and operates from a safe distance. The Seek Scan system is available on the web through its API. This allows integrators and business owners to gain access to the system.
"As we want to contribute to the opening of offices and other public spaces, daily temperature screening is one of the most important aspects of a comprehensive strategy to create a healthier environment," said Mike Munch, CEO and President of Seek Thermal. As demand for temperature screening solutions and integrated APIs grows, our strategic partnership with LenelS2 will enable us to offer affordable systems to businesses and organizations.
Our engineers have already implemented several projects using this solution. If you want, we can tell you more.
Tel: (044) 247-91-50, (067) 123-62-98
Or write to us: info@kristalls.com.ua