Wi-Fi enabled cameras available to anyone
The GeoVision GV-CBW120 and GV-CBW220 IP Cameras are a continuation of the cube line of cameras. These two new cameras can offer miniature shapes and almost the same characteristics as their predecessors (GV-CB120 and GV-CB220). However, these cameras can offer something new, namely, wireless functionality (the ability to connect via Wi-Fi). The CBW220 produces an average of 23 frames per second, while the CBW120 averages 28 frames per second. Both of these cameras provide a wonderful picture, and the delay in live viewing is only a quarter of a second. As in their predecessors, these cameras have a built-in microphone and speaker, which allows for two-way audio communication. The sound quality when viewed through the web interface is pretty tolerable, but to achieve the best, it is still worth using the Geovision software (GV-NVR), which allows you to more flexibly adjust the sound quality.
In order to connect the CBW series cameras, you just need a regular home router that supports 802.11g

Setting up cameras and connecting a wi-fi router is extremely simple. The first thing to do is make sure you have a router that supports wireless. Then connect to the camera via a LAN connection (using an Ethernet cable). Once your camera is connected, go to its web interface (the default address is 192.168.0.10), at the first start you need to enable the installation of ActiveX controls. After you enter the camera, you need to enter in your settings the SSID of your roter (wireless network identifier) ​​and the password for accessing the router. After this is done, you should specify a static ip address in the network settings (you can use the same one if there are no other devices in this network under this ip address), well, go to Network> LAN and change the access method to the camera to "Wireless." That's all, you can save changes and turn off the camera, wait until the green LAN indicator starts to turn blue. As soon as the indicator turns blue, the camera is connected to your network via Wi-Fi. Now you can watch video from the camera, through Multiview, GV-NVR or internet explorer from your local network or via the Internet (if you have a real IP address)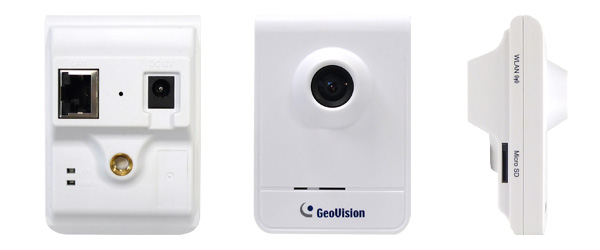 The average throughput required for high-quality image display is 2-3 Mbps (for CBW220 a little more than for CBW120). If the camera is in a darkened room, it will generate a little more traffic than in a well-lit room.
Intelligent surveillance for home?
The CBW (Wireless Security Camera) Series is the product that is best suited for home users. These cameras are easy to install and very reliable. When connecting up to 4 cameras, you do not have to buy professional network equipment and an ordinary household wi-fi router will be enough. To record video, you can use a computer on your local network, a remote computer (recording via the Internet), or an SD card, CBW series cameras have an SD card slot and support cards up to 32 GB in size. You can use this product as a small video surveillance system in your apartment to watch what happens in the apartment in your absence, you can watch how the nanny watches your child, fix the apartment thief, etc.
You can buy and order installation of any Geovision cameras from us, as well as get advice on any issues related to security systems.
Tel: (044) 361-59-01, (067) 123-62-98
Or email us: info@kristalls.com.ua