5th generation UFPA thermal imaging sensor

Uncooled microbolometer 384*288 or 640*512 pix.

Thermal imager lens 50 mm 2 Mpx

Visible spectrum sensor, 1 / 2.8 '' CMOS, 1920*1080 pixels

20x optical zoom (4.7 ~ 94mm)

PTZ Pan: 0 ~ 360 °, Tilt: -90 ° ~ -5 °

Wide Dynamic Range Pro (WDR Pro)

Dust and moisture resistant (IP66)

Electronic Image Stabilizer (EIS) support

Wide temperature resistance (-30 ° C ~ 60 ° C)

ONVIF Compliant

Waterproof connector
Description
KS-QRM5094 is a network Bispectral outdoor PTZ camera for outdoor installation. The camera is equipped with a 5th generation thermal imaging uncooled UFPA microbolometer with a resolution of 384 * 288 pixels (640 * 512 optional), as well as a visible spectrum camera equipped with a 2 megapixel CMOS sensor with 20x optical zoom and unlimited digital zoom.
Thanks to the IP thermal imager and the visible spectrum camera, KS-QRM5094 can detect vehicles at a distance of 2500 km, and a person at a distance of 900 meters in all weather conditions and in absolute darkness. And the built-in lightning protection and overload protection system, as well as water resistance according to the IP66 class, will protect the camera from any weather conditions.
The KS-QRM5094 supports the H.265 video codec to achieve better compression rates while maintaining high image quality with reduced bandwidth requirements.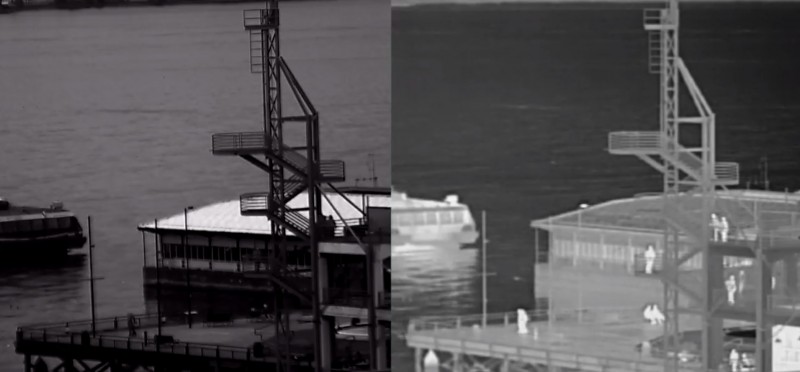 Specification
Thermal imaging camera

KS-QRM5094

Thermal imaging sensor

Non-cooled microbolometer UFPA

Spectral range

7,5-14 mkm

Thermal sensitivity

50mk NETD,

Thermal unit resolution

384*288 or 640 х 512 (optional)

Frame rate

25 frame/s

Thermal imaging lenses

50 mm F1.0

Thermal camera view angle

7.4°X 5.6°

Visivle range camera

Matrix

1 / 2.8 '' CMOS

Resolution

1920 x 1080 (FullHD)

Frame rate

30 frame/s

Codecs

H.265, H.264, MJPEG

Streams

Double stream

Lenses

4.7~94мм (20X optical zoom)
Recognition distance

Detection

Vehicle

2500 m

Human

950 m

Recognition

Vehicle

900 m

Human

500 m

PTZ operation

Pan

0~360°

Tilt

-90°~-5°

Speed

Pan

0.01°~200°/с;

Tilt

0.01°~120°/с

Preset speed

200°/с

Presets

255

Auto

Presets/ patrool / scan / auto scan / path / random scan

General

Environment temperature

Start

-30°C ~ 60°C

Operation

Humidity

10% to 90% (no condensation)

Power supply

12V DC

Max. consumed power

12V DC, 4A

Dimensions

230(mm) × 348(mm)

Weight

5 kg (0.44 lb)

Тревожные входывыходы

4 alarm in 2 alarm out

Погодозащита

IP66

Молниезащита

TVS1500V

Web-interface

Installation

Web configuration

Maintenance

Firmware upgrade through Web Browser or Utility

Web-browser access

Camera Live View, Video Recording, Change Video Quality, Bandwidth Control, Image Snapshot, Picture in Picture, Picture and Picture, Privacy Mask, Text Overlay, Digital PTZ

Supported PO

GV-VMS (V17.1.0.100), GV-DVR / NVR (V8.7.4.0), GV-Control Center (V3.5.0.0), GV-Recording Server / Video Gateway (V1.3.0.0), GV-Edge Recording Manager (V1.3.0.0), GV-Redundant / Failover Server (V1.1.0.0)